Why White Kitchen Cabinets are Ever- Popular for Homes
At the time of kitchen remodeling, there are numerous thoughts on the color of kitchen cabinets in the minds of homeowners. People think of choosing the kitchen cabinets as per their likes or want to replicate kitchen designs of modern homes they have visited. Amidst all that, there are impressive white kitchen cabinets considered as all-time favorite as a market trend. It is generally possible to find white kitchen cabinets as one of the top trends at all times. The impression of white cabinets is not just an year-round magic, but long term appeal. If you are also looking for reasons to buy white cabinets for kitchen renovation, the following reasons will help you make a better choice for kitchen redesign: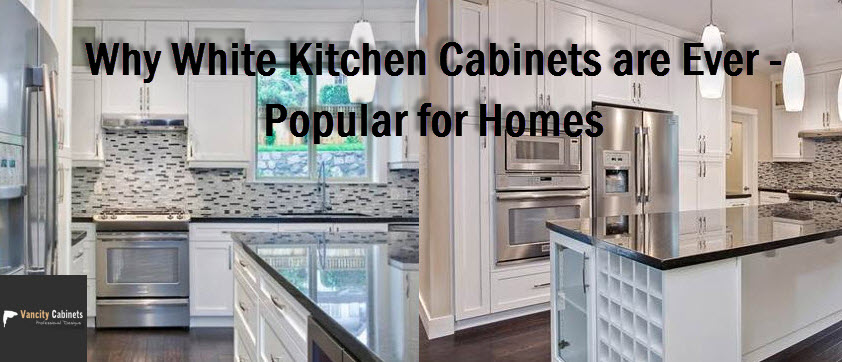 Spacious and Airy Impression
It is true that cabinets forms up a major proportion of the kitchen area to be used for storage needs. With appealing white cabinets purchased from a well known kitchen cabinet supplier, you can make your kitchen look spacious. If your old kitchen looks dull and unappealing, installed dark kitchen cabinets can be the reason behind. So, replacing them up with new, quality kitchen cabinets will make your kitchen look airy and full of space. Also, it is more about the perception of human eyes that connects white cabinets to spaciousness of kitchen.
Full of Light and Brightness
Kitchens with white, bright cabinets installed in it looks brighter than the darker ones. This is because white color surfaces reflects light and make the place look bright. When such an impression is combined with professional, minimal design of cabinets will make your redesigned kitchen look amazing. Scientifically, white kitchen cabinets has higher light reflectance value than their darker counterparts. Calling for kitchen cabinets suppliers in Surrey for such needs will serve you with top quality products and cabinet designing services.
Easy to Match With Kitchen Remodeling Designs
Other than making up the storage space in kitchen, there are elements like painting, natural stone installation or even fixture. Complete kitchen appeal is the overall combination of all these elements placed together. White kitchen cabinets can be easily paired up with other decorative patterns of other elements for improved kitchen appearance. In kitchens. there are countertops surface of diverse designs with which white cabinets looks no less than perfect.
Thus, choosing white kitchen cabinets will definitely add up a new life to your old kitchen while also making the remodeling process simpler.