Three Great Kitchen Cabinet Ideas
Below are three excellent kitchen cabinet ideas, one for every budget.
1. Refacing Kitchen Cabinets
When we buy something with great desire, it really becomes difficult to throw that. If your old kitchen cabinets have faded but they are not damaged, then you need not throw them. You can consider their refacing. If your kitchen cabinets are made of wood, then you can consider their refinishing. The refacing or refinishing will change the whole appearance of the kitchen cabinets and give your kitchen cabinets a great new look. This will save you money and will curb junk control as well.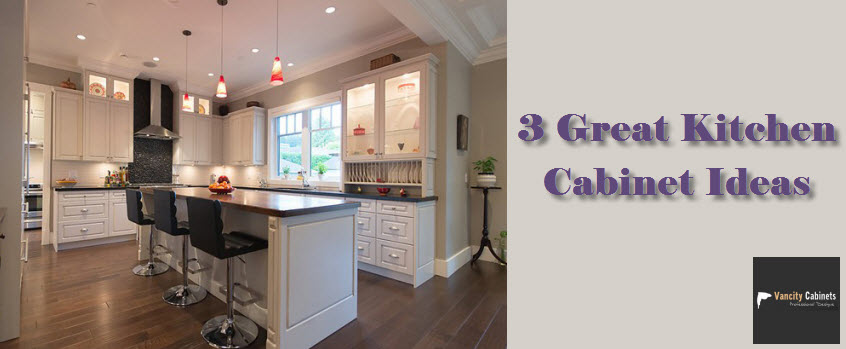 2. Readymade Kitchen Cabinets
If you have a large kitchen and space is not a concern for you, then you can consider readymade kitchen cabinets. However, you can buy them for your small kitchen as well. A great variety of readymade kitchens are available in the market. You can see them all and buy those that appear most relevant to the ambience of your kitchen and most reasonable to your wallet. However, it would be a better idea to inquire and inspect every kitchen cabinet in detail so that you don't make any mistake in adding the right kitchen cabinets to your kitchen.
3. Custom Kitchen Cabinets
The third option is custom kitchen cabinets. If your kitchen is small in size, then custom kitchen cabinets are the best choice. However, they are an excellent for medium and large kitchens, too. The custom kitchen cabinets will fit your kitchen correctly and increase its appearance. If you are considering custom kitchen cabinets, then you have multiple choices. Firstly, study on different kitchen cabinet materials and then research for beautiful kitchen cabinet design options. Once you have these ideas, you can express your requirements and expectations rightly to the kitchen cabinet manufacturer and that will be able to offer you the best kitchen cabinets.
We have put forward these excellent ideas. Now, the idea which appeals you most, you can consider them. If you want to buy readymade or custom kitchen cabinets in Vancouver and Surrey, you can contact us.