If you want to give your kitchen an exotic look, think of investing in granite. Earlier granite was considered to be a material for elite class only because it was quite expensive, but over time, its price has reduced. So now anyone can considered it a good investment. As a conscious and smart customer, of course, you will not choose granite just because somebody has recommended it to you. You will want to know about its pros and cons first so that you can make a well-informed decision.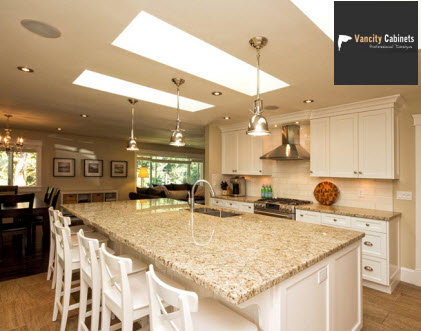 Below we are going to discuss some pros and cons to help you make the best decision for your kitchen countertop.
Pros:
Durability
Granite kitchen countertops can serve you for many decades. Granite is recognized as the second hardest material available on the earth after diamond. Moreover, it is a renewable source.
Chemical Free
Granite is free from any kind of chemicals and does not emit harmful radiation, so it makes your kitchen a safe place.
Resistance
Granite kitchen countertops are resistant to heat. So, if you put the hot pan on your kitchen countertops direct from the gas stove, there will be no adverse effect on the kitchen countertop.
Granite is resistant to scratches. If you try to scratch your granite kitchen countertop with a sharp knife, the knife will become blunt.
Granite kitchen countertops are resistant to chemicals and toxins like acids and bases.
Appeal
Granite kitchen countertops are available in a great variety of exotic color choices. So, you can choose the color that will enhance the appeal of your kitchen.
Cons:
Repairs
Cracks or chips are rare to granite kitchen countertops, but they may occur. If they occur, we recommend professional treatment.
Expensive
Granite kitchen countertops seem an expensive choice to many people initially, but they are not. When you look at their durability, maintenance cost, and other advantages, you find them a smart investment.
Sealing
As granite is a porous material, it needs proper sealing before installation to avoid liquid absorption.
As you now know the pros and cons, you can make a well-informed decision. If you are convinced to choose granite, contact us. We provide high-quality granite kitchen countertops in Surrey and Vancouver at most competitive prices.
Read More